The Hardest part of TNR – Is the "R"
TNR = Trap Neuter Release – a program where feral cats are trapped in humane live traps, taken to a vet or clinic set up for handling feral cats. The cats are sedated given a medical exam by a veterinarian , vaccinated for rabies then surgically sterilized so they will no longer make kittens – The cats are then returned to the person who trapped them and once they recover enough to be able to move about, they are returned to the place where they were trapped and released back to their home free to live without the burden of reproduction.
I am, so lucky to live in an area where they have feral cats program so that I can take the pallet cats to have them "fixed" otherwise I would have been unable to get the pallet cats sterilized fast enough to prevent any more births – Between my house cats, yard kitties and pallets cats my budget is already maxed out I can not afford to feed any more kitties. I already spend more on cat food than I do my own.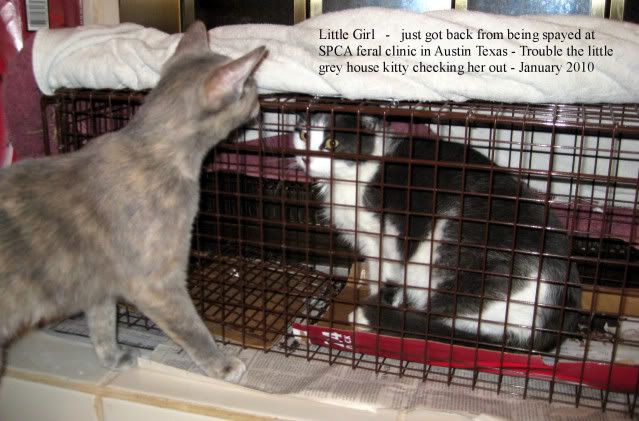 I have a very tight knit group out at the pallet yard – Momma Meow rules with an iron paw – no questions asked. She and her daughter fuss and fight all the time but when every any other animal tries to enter the colony Momma Meow and Sissy Sue take turns attacking so until would be intruder runs off to escape them. I had a rather loud Tom arrive – I noticed some of my young pallet cats resembled him so I am guessing he and Momma Meow have met at least briefly. He went into his serenade but neither Momma Meow not Sissy Sue were in the least bit interested – they retired from their kitten making duties – Poor Tom cat s looked at me as if to ask "what am I doing wrong here"
Momma Meow and Sissy Sue went into their attack mode taking turns attacking while the other rested until he had grown weary and ran off – I did not expect to see him again. A few days later here he came back "singing" his loves songs, which were met with the same attacking female duo as his last visit except this time he was close enough to meal time to snag him a few bites on his way out. Although I admired his persistence I did not expect him to last – but every couple of days he would come up the road help himself to some dry food before being run off by the females once again.
After about a month I began calling him =- Klingon – the name had a duel meaning – He didn't flinch from the battles, he had many obvious scares from his escapades and despite the attack launched each and every time he came he returned any way – which leads me to the second meaning – Klingon – or cling on – he found a food bowl and he is clinging on -
He greeted me with a meow when he entered my property and when he gets ready to leave for the night he always stopped by my work table to say thank you before trudging off down the dirt road to ???
. While a female cat can produce four to five litters of kittens a year she is limited by her gestation times where as a male cat is not – A single male can mate several times a day every day making many many more kittens. Well the battle scared gent became a sort of vagabond member but the constant fights were obviously taking their toll mother nature willing it was time to retire the kitten making equipment. I was able to coax him into a trap and take him to the SPCA feral cat clinic in Austin and have him relieved of his "duties" and vaccinated – He was trapped on Wednesday , went to clinic on Thursday and I released him on Friday morning.
While getting a feral cat into a trap has been tricky and the closer I get to having every one at the pallet yard done the harder it is to trap one I haven't. They get scared in the car when it starts moving. I keep them covered up when they are inside my home so my house cats don't vex them. Some times when them weather is mild I let them stay in their trap on my back porch because they are more comfortable out of doors than they are inside my house. The yard kitties are all out in the fields or tucked away sleeping but the hardest part for me is the release.
I am glad they are getting to go back home – I read some where that while we see cats as belonging to people cats belong to places. They are very attached to the land they call home. Even though I did my best to make sure Klingon felt at home and I am pretty sure his primary living quarters is close by I knew that one he was freed from his trap I may never see him again. Some times after a feral cat is sterilized no matter how careful and calming one makes the process some cats are so freaked out that they run away from the area never to be seen again. While that thought worries me the sterilization and vaccination will remain with them where ever they go.
Even though I am peace with my decision the idea of never getting to so him or one of my other babies like Little Girl again saddens my heart – I worry about them being okay and I miss them at feeding times. They share a time and place yet live in a world of their own when I am able to relieve them of the burden of reproducing I feel like I play a major part. Releasing a cat never to see them again is sort of like being asked to play a major part in a show I may never get to actually watch – While releasing the feral cat back home and watching him/her return to freedom is my favorite part the process of letting go with no guarantee of ever seeing the kitty again is also the hardest part.
TOTAL spays/neuters since 2007: 12,200
The folks that are helping me with my Pallet Cats.
This community program embraces the Trap-Neuter-Return (TNR) method of feral cat population control. TNR works! It is humane, non-lethal, effective in eliminating colonies, and is more reflective of a caring society. AHS provides a free and public spay/neuter program for Travis, Williamson, Bastrop and surrounding counties.

Friends of Felines
Lots of listings for low cost spay and neuters
Alley Cat Allies
Wide variety of information about feral cats, colonies and TNR programs
. . . . .
Facebook
Twitter
Views
5412
Comments
5
Comments
Trackbacks