The Fussy-Butt Lessons in Perspective
We do not see things as they are, we see them as we are.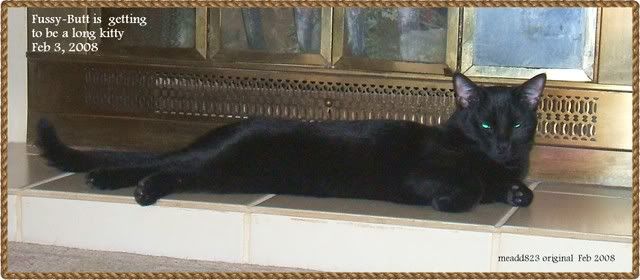 For the longest time I had the most annoying cat ever known to man. He seemed to always want attention at the worst possible times. . . it seemed the more stress the more this cat wanted to be the center of attention.
I don't really know what happened he was an adorable kitten, we played and I showered him with attention but it seemed like when ever I was in a place to play or pet him he never really seemed as interested as he did right after a knock down drag out fight with Gary or during a distressing phone call from an off spring. I couldn't help but wonder what in the heck was up with this stupid cat? .
When I came home after loosing Brat kitten I noticed how fussy and Mee-Too seemed ever present by me and were a comfort. This was probably the first time in Fussy's ten months with us I didn't push him way.
A month or so later while pitching a fit I was really frustrated with several things in life but some how a coat hanger breaking brought it all crashing down I am such an adult I know – with in mili-seconds for my onset of rage both the two legged and the four legged creatures scampered off in various directions, with the exception of one. Sitting in the middle of my bed was Fussy-Butt He looked up at me briefly as if to check and see if he were the source for my anger. Making sure I hadn't found his latest big dead bug collection in my shoe or that half a dead mouse under my robe . . . Noticing the broken hanger in pieces he went back to his grooming. . .
Week came and went
When we quit smoking Gary had these fits of screaming – which I normally blew off however I while preparing to leave for yet another trip I wasn't in the mood to go on Gary's screaming act was the one more thing I couldn't handle sanely . . . After the very loud altercation which felt like it was in front of the whole town I just couldn't take all this crap – the hell with it I wasn't going life is simply too short for this . . . I laid across my bed crying – I felt alone – briefly until the worlds most annoying cat came in laid down next to me and began purring – it dawned on me for the first time Fussy was trying to comfort me.
I noticed when I was upset during those times when every other creature was looking for a place to hide from me Fussy seemed all the more determined to share my company.
A couple of weeks ago Gary swallowed a bee that was in his soda can and it stung him inside of his throat. . . he wasn't allergic to bee stings thank God because the nearest hospital is some 15 miles away and I am not sure exactly where in the next town the nearest hospital is.
At first Gary was going to be the brave man who could take the pain and keep on working . He was resistant to any suggestions of ending the day early so he could take care of what had to be an uncomfortable bite As the initial shock wore off he began to notice the amount of discomfort . He became more open to the idea of quitting work early and began to kind of freak out about the possibility of having a stinger left inside of his throat.
Luckily the initial denial gave me enough time to run through some solutions in my head before being excepted to know what to do. – In decades of nursing I have yet to see any one get stung on the inside of their throat. Gary was swallowing the bee when it stung him and as long as he could swallow and breath it seemed like the best approach was to wait and see.
If he went to ER what were they gong to do? It wasn't like Gary was going to let them get a scope and look down his throat. . . . . so we opted for some ice, ibuprofen and benadryl. Sure enough in the middle of this first aide effort was Fussy-Butt – remaining right besides Gary the entire time no matter how many times Gary pushed him away. Fussy refused to leave this hurting but ever so unpleasantly agitated man . . .
Gary pushes Fussy away "What is up with the world most annoying cat? I am hurt and he wants attention !"
"No Gary Fussy doesn't expect your attention or he would have left the tenth time you pushed him off the couch – he is offering you his attention."
At first Gary didn't believe me – but as the numbing effect of the ice hit along with the effects of the medications the pain and anxiety began to subside . . .While I helped Gary get comfortable on the sofa I asked him if he noticed some thing or some one missing
Gary looked around bewildered – "huh?"
"Have you failed to notice the recent absence of the worlds most annoying cat? You are feeling better so Fussy left."
All this time we saw him as a pain in the buttocks thinking he wanted our attention at the worst possible times In Fussy's reality he was braving our crap behavior to offer us his time and attention when he perceived we were at a low spot and in need of some extra love and attention . . . despite our lack of appreciation Fussy offered us his. . .
Wonderful is the soul that can take me as I am on my best days . It takes a real angle of mercy to offer me unconditional love during my worst of moments . . . . meadd823 original Feb 2008
Perspective isn't every thing but it is a great deal more than we realize – how we see the world can make us the bravest of souls or the most unappreciative creatures on the planet.meadd823 original Feb 2008
Facebook
Twitter
Views
2853
Comments
5
Comments
Trackbacks