Cat Trapping Season
This cat trapping season has been a long one - I can't remember the last time I actually took off completely for a specified period of time I think I took off a month in - January.
This time I have decided to take off from now until Yule - which will probably be more like the first of next year seeing as the feral clinic will probably be closed for the holidays.
Usually I feel obligated to take on trapping projects in my area because I use traps provided by Hill Country Cats without rent or deposit. Two months ago I found out that I can purchase the traps at distributor cost which makes them affordable.
I began buying my own traps and trapping supplies to lessen my feeling of obligation to take on local trapping projects. I don;t want to quit completely but I want to make the amount of time I do so more reasonable and in balance with the other things in my life.
- The feral clinic manager gave me two traps that other trappers disliked soooo I now own the same number of traps lent to me by Hill Country Cats. I modified the traps as to be easier to clean with cats in them and both worked well in the field -
Yeah free at last, I am finally my own free agent but knowing me I will probably end up dealing with the idiots who want some thing for nothing any way because for me it is and always swill be all about the cats.
- The cats suffer if I refuse to trap them and take them to be spayed / neutered not the stupid people. The only lives my activities really save are the ones I prevent from occurring in the first place - Fewer starving kittens and cat because fewer are born into homelessness. If a kitten is never born it can not die - The adult cat I take to be spayed or neutered I hope to improve their life by relieving them of the burden of procreation, providing food and water but I have learned I can not save them.
I haven't tallied up my over all numbers for this year but this last trapping session was a feat I won;t be trying again any time soon.
- Fourteen cats trapped in three different locations in San Angelo and transported to my house in Bertram with a brief hold over, trap cleaning before being taken to the Austin feral clinic.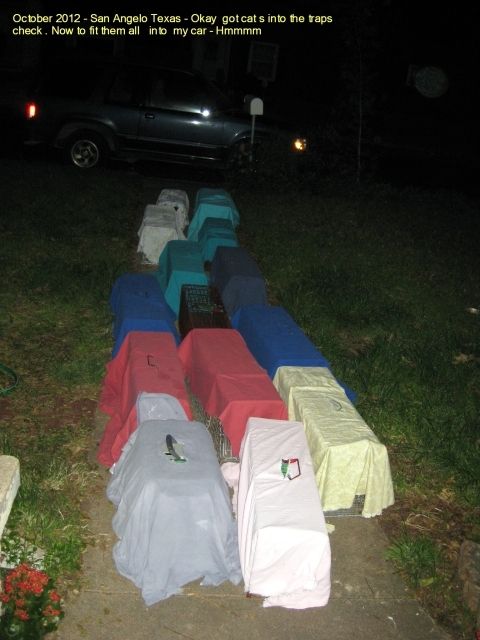 - Three hours of meowing with a two hour rest before taking the final two hour journey from my house to the clinic it self - Two more hours of meowing in morning rush hour traffic with some one located right behind my seat feeling the need to poop about half way there.
Ohh the smell of fresh cat feces in the morning!
The evening after surgery isn't bad the cats mostly sleep as did I. The recovery period from there on out is a part time job - Trap cleaning when the cats are inside of them must take place at least twice a day some times more - Fifteen minutes each cleaning session or roughly thirty minutes per cat per day -Multiply by fourteen
Feral cats are easy they always move to the opposite side of the trap but tame kitties are not so easy - Some times they move to the other side of the cage other time they come toward me - forcing me to place the divider fork in and then turning the trap around to clean the part that the cat isn't in. It reminded me of working in a nursing home - by the time one round is finished it is almost time for the next round.
Two small un-weaned kittens were added to the mix the day after surgery because they had to be fed around the clock and could not be left over night.
-Transport back to San Angelo took a day longer due to a storm with high winds and hail. Cats all over my living room floor on top of my resident cats roaming about - every one wanting to mark their territory - I am still cleaning!
WTF was I thinking I need a break my life has become one long chore after another - I haven't even checked my e-mail in over a week - facebook - I wonder if I still have an account there.
I have cats so I can spend time with them , but I am not to sure why I married .
I haven't spent enough time with my own cats I don;t get to do the things I enjoy, I have once again become the raving maniacal cat lady. The neighbor lady who had been helping me went bonkers last month soo it seems it is time for a break from cat trapping. I will probably e-mail Alice tomorrow when I finally get to my over stuffed e-mail -
Soo for the next two months I will be using my free time for the calmer activities in life like moderating forums!
I wonder if any one will notice I am back?
Facebook
Twitter
Views
9125
Comments
2
Comments
Posted 11-28-12 at 02:04 AM by

minuss
Trackbacks